Indulge in nature
New Caledonia's natural reserves offer visitors a wealth of recreational trails to discover the local fauna and flora.
Discovery trails
In La Foa, Dogny Cascade will thrill rafting and canyoning amateurs. In the vicinity, Great Ferns Park is a must-see when it comes to hiking, cycling or footbiking. The park also features Accrobranche activities that include zipline canopy tours…a great way to discover and enjoy New Caledonia's forests! Closer to Noumea, you can practice Accrobranche at the Koghi Adventure Parc.
Hiking trails can be found throughout New Caledonia, along the coast or in the mountains. On a bike, from the back of a horse or on foot, enjoy splendid trails that wind through stunning natural sites.   
Try the Mount-Dore hike in New Caledonia
Get a stunning view of Nouméa and the lagoon by climbing Mount-Dore, one of the highest summits of the island. This 4 hours walk is for intermediate to experienced walkers and will allow you to meet the most beautiful nature of New Caledonia.
During this ascent to reach the summit located at 800 meters, it will be possible to see endemic plant species of the island in a splendid environment. The reward will be as high as the effort since the view from the top of the mountain is a panorama of Noumea, the lagoon and the small red earth islands
Horseback riding trails
New Caledonia is a dream destination for all nature lovers. Here, horseback riding is somewhat of an institution, as if it were part of the local cultural heritage. The island harbors a wealth of unique riding trails that will take you through eye-enticing scenery. From savannas to mountains and immaculate beaches, you can discover hidden spots you wouldn't be able to reach on foot.
Outdoor sports galore
In New Caledonia, outdoor sports are extremely popular. Whether you are travelling with family or friends, choose from a wide array of adventure sports. No matter your level, you will find the perfect activity to suit your needs. So just take your pick and indulge! A few years ago, two long-distance backpacking trails (GR® certified) opened. One is located in the South Province, the other in the North Province.
Magnificent Malaoui peak
Located minutes from Noumea, the Malaoui Peak overlooks the city. Climbing amateurs will depart from the Mont Koghi Auberge and follow a trekking trail that does require some endurance. The exceptional panorama is well-worth the effort!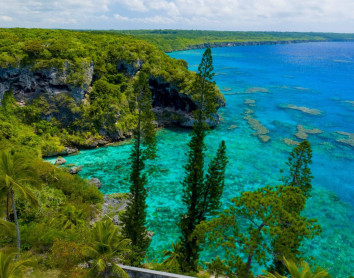 Lifou's caves
In Luengoni, your guide will take you on a 2.5 kilometer hike along the coast in order to reach breathtaking coral cliffs from which you can contemplate spectacular views. Lifou is also famous for its mysterious caves and magnificent waterholes that dot the lush forest.
The islands treasures
From caves waiting to be explored to lush forests permeated by kanak legends, the islands offer visitors various hiking options, many of which can be enjoyed as a family activity.